Deciding to label your equipment with QR codes is a big step. Not only is it an investment in time and money, but the benefits from scanning and tracking your equipment are enormous. With scanning and tracking, you can reduce loss and theft of expensive equipment. Scanning also reduces human data entry errors and helps build a constant stream of historical data so that smart business decisions can be made regarding equipment. 
Since this process is so vital to your overall business operations, ensuring you have the knowledge to make the right decision for your business and budget is key. In this guide, we will help you consider all of your options for labeling your equipment. We will also guide you through how to create and print your own labels. 
What are my options for labeling my equipment?
Whether you are just getting started with labeling or looking to adjust your process, there are 2 options to get your equipment labeled. There is no right or wrong answer to which option is best. It is important to make the decision based on the capacity and time you have available for this project. Additionally, make sure to consider how durable your labels should be as some materials are only available from suppliers.
Purchase pre-printed labels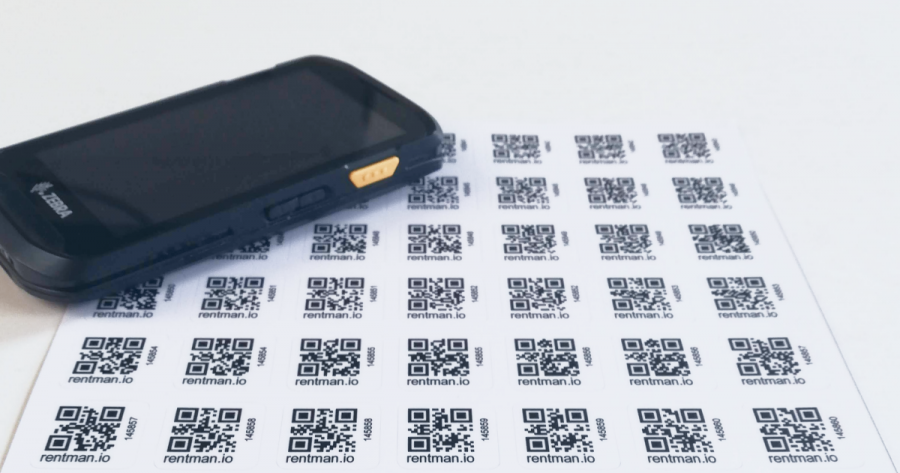 If you lack the time or need large volumes of labels, then pre-printed labels might be the better option for you. The biggest benefit of buying pre-printed labels is that it saves you time and investment. However, you might not be able to design them exactly as you want and if you run out, you will need to wait for printing and shipping times.
If you're a Rentman customer, you can purchase pre-printed labels directly from us! Our QR codes are covered with a laminate industrial coating after printing to ensure durability. They also have a high ECC level, which means that the codes will still scan even if up to 30% of it has been damaged.


| | |
| --- | --- |
| Pros: |  Cons: |
|  ✔ Saves Time |  ✖ Less Creative Freedom in Design |
|  ✔ No investing in printers, labels, or software |  ✖ Can't have them on demand |
|  ✔ Work with label experts |   |
Create and print your own labels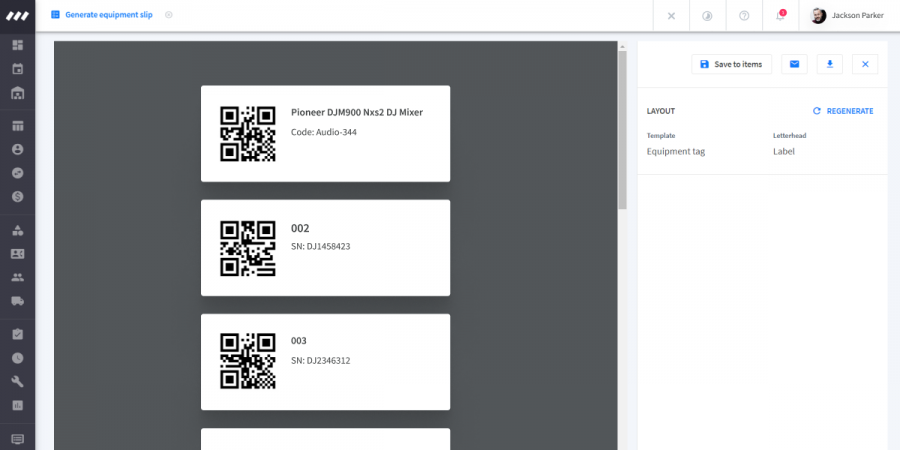 You also have the option of designing your own labels and printing these directly with a printer at home or in the office. This is a great option for smaller or start-up companies because typically the printing jobs are not as large and frequent.
Rentman will help guide you through the process of generating QR codes and designing your labels. With the document template editor, you can change the size of your labels and add elements like your logo, company name, equipment purchase date, etc. Once you have designed your labels, you can simply download them as a PDF and print them from your label printer.


| | |
| --- | --- |
| Pros: |  Cons: |
| ✔ Creative freedom in the design of labels | ✖ Costs more time |
| ✔ Great for small or start-up companies | ✖ Requires investing in materials and printers |
| ✔ Print labels on demand |   |
What kind of label materials should I consider?
Materials for self-printing 
Materials available for your labels will depend on if you order them pre-printed from a supplier or print them yourself. If you are printing labels yourself, we have listed a few recommended printers in the next section of this blog. These printers can print using direct thermal printing which means that printing is done by heating specially coated paper. 
Direct thermal printing is great because it requires no additional ink and can produce a very sharp image. However, direct thermal printers mainly print on paper or sometimes film (like plastic). In general, these materials are less durable and can darken to become unreadable if overexposed to heat, light, or other elements. While this can be a cheaper option in the beginning, you might have to replace labels more often with these materials.  
Materials from suppliers
If you want something that will truly stand the test of time and never budge, then speaking with a supplier might be the best option for you. Suppliers are experts in label materials and can work with you to create custom material solutions. Some materials we see often are listed below:
Polyester

can be used inside or outside. However, it is mainly recommended for indoor use. While it is waterproof, it is not as durable when used outside. If you need something for only outdoor use, we recommend foil labels.

Foil

is great for outdoor use and is long-lasting. Foil is commonly used for equipment that is moving through different environments so it's a safe choice if you rent in a variety of climates. Foil is also very adhesive, making sure it will stick for a long time.

Heat Shrink

is great to use for cables as it can be heated to shrink around the surface of your cables. It is great for indoor or outdoor use and very resistant to damage.
If you are unsure which material will be best for your equipment, order a few samples. It never hurts to test a few different materials yourself to see what you and the team like best.
If I print my own labels, what printers should I check out?
A question we often get asked is, "what label printers should I consider for my business?". We think this is a pretty great question and wanted to help answer this. We set out to gain insight by asking Rentman users around the world, conducting our own research 🔍 , and testing a few ourselves.
Each printer recommended uses direct thermal printing. No more ordering expensive printer ink 🎉! Direct thermal printers are also typically more durably built than your usual laser or dot matrix printer. We had a look at the pricing of each printer, the type of connection, printing speed so you know how to handle your larger jobs, and the quality of prints so we can ensure your codes have a high resolution and are easily scannable. Below you will find our top 3 label printer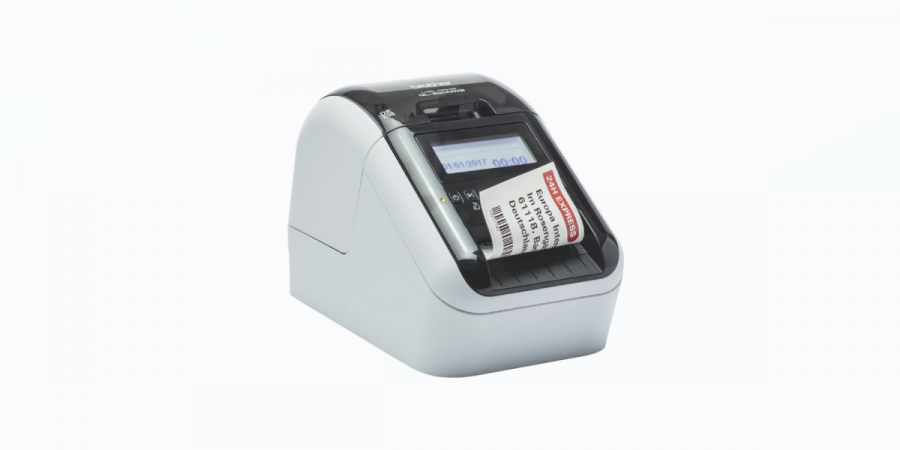 The Brother QL-820NWB is at the top of our list for recommendations. This printer can be connected via Wi-fi, Bluetooth or ethernet. It has a high speed of printing and can print 110 lpm (labels per minute). This makes it perfect for companies that have a lot of QR code printing on a regular basis. It also has a print resolution of 300dpi (dots per inch) which means it will give you a decent quality print. PCMag has provided a more detailed analysis of the Brother QL-820NWB which can be found here.
We have successfully tested the Brother QL-820NWB at Rentman and officially give it the Rentman stamp of approval!


| | |
| --- | --- |
| Pros: |  Cons: |
| ✔ Connection via Wi-fi, Bluetooth or ethernet | ✖ Battery costs extra |
| ✔ 300dpi - good print resolution |   |
| ✔ 110 lpm - good print speed |   |
The Dymo LabelWriter® 450 is the most affordable recommendation we have. Not only is it friendlier on your wallet, but with 300dpi like the Brother printer, it also gives a decent quality print resolution. It's especially great for handling small to medium-sized labels. The only downside to the Dymo LabelWriter® 450 is you can only connect via USB and it can only print 51 labels per minute which is the slowest of the 3 printer recommendations. Check out a more detailed review of the Dymo LabelWriter® 450 on PCMag here.
The Dymo LabelWriter® 450 also receives the Rentman stamp of approval as we have successfully tested it in our office.


| | |
| --- | --- |
| Pros: |  Cons: |
| ✔ 300 dpi - good print resolution | ✖ 51 lpm - slowest printing speed |
| ✔ Most affordable | ✖ Can only be connected by USB |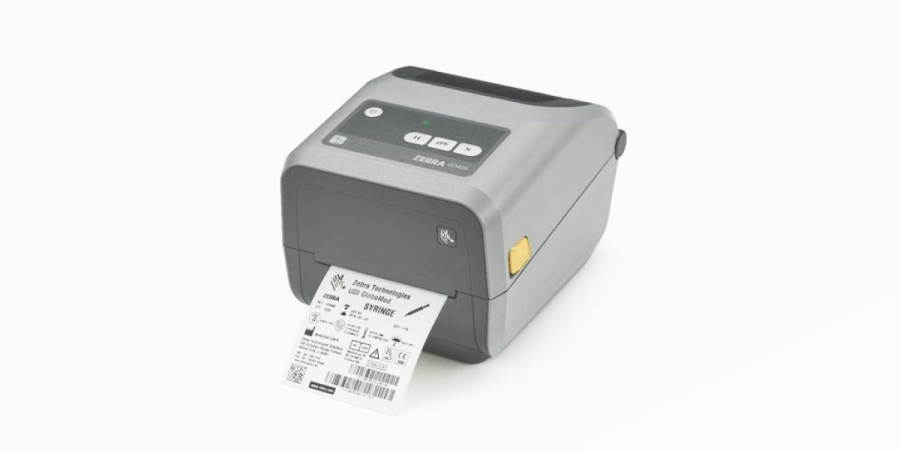 The Zebra ZD420 was introduced as an upgraded replacement to the Zebra GK series of printers. It has the ability to be connected via Wi-fi, Bluetooth, or ethernet. It is a powerful printer that can print as quickly as you make the requests. However, It is not recommended for small size prints since it has a lower print resolution of 203dpi. Check out a more detailed analysis on the Zebra ZD series by Computype here.


| | |
| --- | --- |
| Pros: |  Cons: |
| ✔ 152 lpm - Fastest printing time | ✖ 203 dpi - lowest print resolution |
| ✔ Connection via Wi-fi, Bluetooth or ethernet |   |
Ready, Set, Label!
With this knowledge, you should be able to make more informed decisions in your labeling process and select the approach that works best for your business and budget. If you have any questions on how Rentman can help with your equipment labeling process, please reach out to us directly. Best of luck!