You've probably heard of RFID before and wondered what it means. Short for Radio Frequency Identification, RFID is a smart tracking solution used in many industries, such as inventory management, logistics or retail.
While this technology might sound complicated, we assure you that it's simpler than it sounds. Through antennas, RFID readers communicate with tags that are attached to specific objects, such as cameras, cables, clothes, even shipping containers, allowing you to identify them.
Think of a situation where you deal with lots of items that have to be tracked. If these items have RFID tags attached to them, you will be able to scan them using a reader without actually being in line-of-sight.
However, there is more to RFID than that. Depending on the type of tag, as well as frequencies and reading ranges, there are many different scenarios within different industries for this technology. This means that RFID is very configurable, and it might be the inventory management solution you've been looking for.
In this article, we'll be sharing more about industry-specific cases for this technology, answer privacy concerns, as well as go through advantages and disadvantages. For example, based on our research, RFID can save up to 90% of your time while scanning items. But, is it worth considering its substantial investment costs? Find out more about it in the coming sections.
Already interested in investing in RFID? We compiled lots of insights on how to successfully implement RFID in the AV industry into a downloadable report. Make sure to grab a copy for yourself.
1. What is RFID?
RFID is a type of wireless communication technology used to identify objects within a specified radius, specifically useful for industries that need tracking solutions for their inventory levels (such as cargo logistics or equipment rental). Think of RFID as an upgraded and smarter version of scanning barcodes or QR codes.
Within the electromagnetic spectrum, RFID transmits radio waves and microwaves through antennas. These waves are called 'radio frequency', which is where RFID also gets its name.
However, radio frequency only allows transmission of information. The last element in the name of RFID, identification, happens through electromagnetic coupling. When the electromagnetic field in a circuit connects, or induces voltage, in another circuit, a phenomenon called electromagnetic coupling happens. This is how the RFID ecosystem is created.
Example: Imagine all the tags that you see attached to clothes in a store. Did you know that they all have RFID capabilities? If their circuits get in contact with the circuits inside the gates at the exit, electromagnetic coupling will happen.
This is a type of simple and continuous coupling, that has been around us for decades already. However, there are more advanced RFID ecosystems nowadays, capable of identifying larger volumes of data and updating your system with valuable information.
The antenna and the transceiver are often working together, even combined under one entity, such as an RFID reader. The reader is the main institution that connects the transponder and the database. They come in many shapes and sizes, but most often can be categorized as static or mobile devices.
An example of a static reader can be a conveyor belt with RFID capabilities. This solution is optimal for large warehouses that often deal with consistent lines of supply. Think of a large retailer warehouse that must always keep high levels of the same stock in their connected retail stores. It would be easier to have an automated and fixed tracking system using RFID, to ensure efficient and quick practices.
On the other hand, mobile readers perform best in volatile environments, when different types of inventory are required on a daily basis. Think of the event rental industry. In one day, you could cater to two different events that need different types of equipment. It would be easier to pack equipment up manually and scan everything using the RFID reader.
Transponders are another important element of the RFID ecosystem. They are also called tags or chips. They have different shapes and sizes, but typically are smaller, making it easy to attach to inventory pieces.
The final element of the RFID ecosystem is the database. When connected to existing data (such as equipment serial numbers in the inventory), the reader will automatically detect existing inventory. This means that RFID transponders (tags) have to be digitally connected to existing inventory in the database for the RFID system to be optimal, not just physically attached to them.
3. What are tags?
As mentioned above, RFID tags come in different shapes and sizes. However, they all contain the same base components: an integrated circuit and an antenna. Tags can typically be classified into two categories: active tags and passive tags.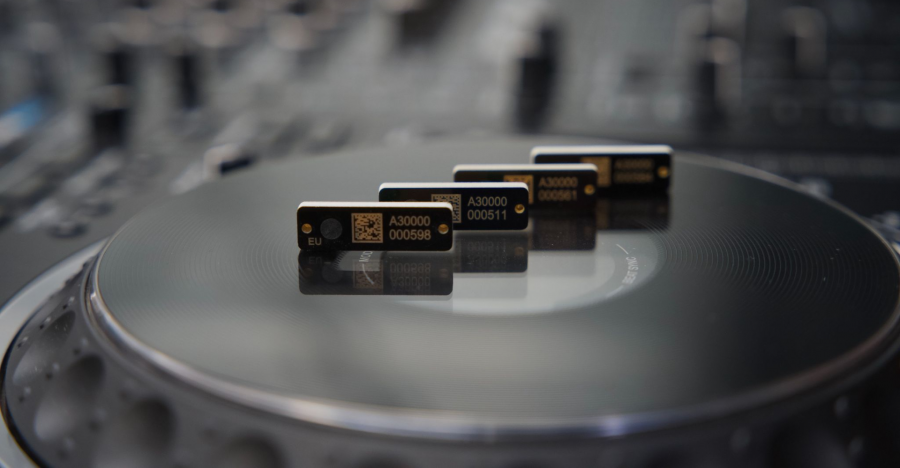 | Active RFID Tags | Passive RFID Tags |
| --- | --- |
| Have their own power source and continuously transmit their own signals to readers | No power source. The reader's antenna transmits electromagnetic waves that power the antenna of the passive tag |
| Long read range | Short read range |
| More expensive | Less expensive |
| Typically used to track important mobile items, expensive equipment, vehicles etc. | Typically attached to inventory inside the warehouse |
| | |
| | |
| | |
| | |
| | |
A simple form of passive RFID tags are smart labels. They are thin labels that can be printed in special devices that also have a circuit and antenna embedded in them. Since most of the time they contain adhesive, you can easily attach them to any equipment in a short amount of time. However, this comes with disadvantages as well, as they have a very short read range, as well as lifespan.
4. Types of system frequencies
Frequencies determine the capabilities of the RFID system, such as the read range. There are different types of systems and frequencies that can be applied in different business spectrums. It's important to note that they also vary by region to comply with respective regulations. 
There are generally four types of frequency ranges: low frequency, high frequency, ultra high frequency and extremely high (or microwave) frequency. The smaller the frequency range, the lower the scanning range of the reader will become as well. For example, using a low frequency system, tags will only get detected from up to one or two meters away (up to 6 feet).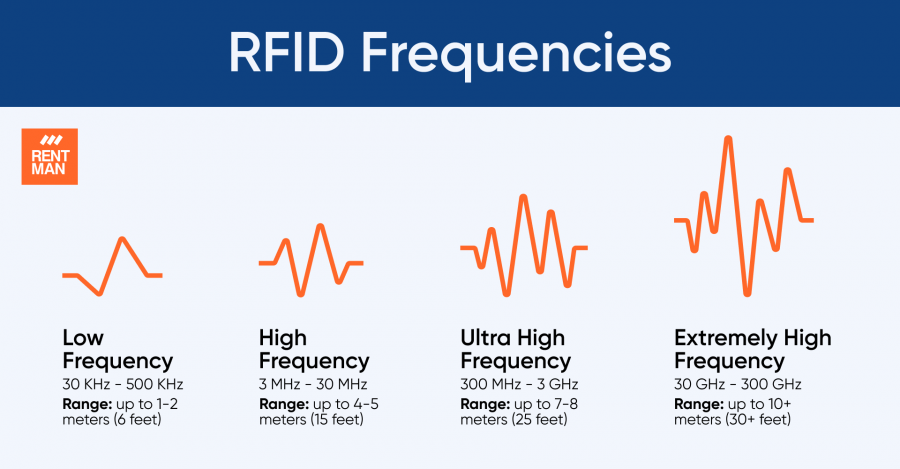 Low frequency RFID systems are typically used to track high levels of stock in the warehouse. They range from 30 KHz, all the way up to 500 KHz. Their most typical frequencies range from 125 KHz to 135 KHz (depending on the region). The reading range is also typically within centimeters, all the way up to a meter or two from the subject (inches, up to 6 feet).
High frequency RFID systems are the most common systems, since they are the industry standard for NFC Global Protocols. They range from 3 MHz, all the way up to 30 MHz, with the most common frequency being 13.56 MHz. The standard reading range is a bit better than low frequency systems, being able to scan up to a couple more meters (up to 15 feet).
Ultra-high frequency (UHF) RFID systems are expensive and generally used to track more important items. They range from 300 MHz to 3 GHz, with the most common frequency being 433 MHz. The reading range can get up to more than 7 to 8 meters (25 feet).
Lastly, extremely high frequency RFID systems, or microwave RFID systems, are the most expensive and best performance option. They typically range from 30 GHz and can even reach frequencies up to 300 GHz. These are the types of systems that are used on cargo containers, for example. The range can get up to 10 or more meters (30+ feet).
5. Business use cases
Now that we know what RFID is, as well as types of tags and frequency systems, let's dive in and see in which industries this technology can be applied. From inventory tracking, all the way to livestock management, there are many possibilities, to name a few:
Asset management & tracking: By adding tags to a multitude of inventory items, companies can always monitor their location and movement in the chain, as well as identify what items are lost. RFID asset tracking systems are among the most popular use cases.
Supply chain management: This takes inventory management & tracking to the next level, as it involves several stages of the supply chain. RFID enables companies to track at which supply stage their inventory is, so that they can plan accordingly using real-time data.
Cargo logistics: A sub-branch of the supply chain, and another popular use case. With advanced UHF / microwave RFID systems, containers can be easily tracked in port facilities, terminals or other types of hubs, where thousands of containers are lined up side-by-side.
Animal tracking: This includes pets that can have RFID tags in their collars, as well as livestock management for large herds of cattle, sheep etc.
Personal identification documentation: Yes, it is true that modern-day passports contain RFID chips. Every time we travel through borders, border officers have special devices that track and register personal data such as the passport number, date of birth and the expiration date of the document.
Retail industry: RFID is prominently used in the clothing industry. All the tags that you see on clothes have RFID capabilities, and the scanning systems at store entrances act as static readers.
Healthcare industry: Believe it or not, some healthcare institutions use RFID tags on patients and staff to verify information, reduce waiting times, as well as locate patients that should come back to their unit. This technology is also used on important surgical tools, to ensure that they are always available for surgeries.
| RFID tags | Barcodes & QR codes |
| --- | --- |
| Physical items containing an integrated circuit and an antenna | Printed, digital |
| Often times protected by durable plastic coating | If printed, can wear and tear after multiple uses in time |
| No need to be in line-of-sight to scan items | Line-of-sight to scan items required |
| Depending on the type of tag, items can get scanned from a considerable distance | Can only be scanned in close proximity |
| Can read multiple tags at the same time | Can only read one code per scan |
| Need to be powered by internal power source or by contact with RFID reader | Does not require power (unless being shown in a digital format) |
| Require investment in hardware (both readers and tags) | Small investments needed; if in digital version, it can be free |
| | |
| | |