RFID, or radio-frequency identification, has been a hot topic in the warehousing world for a while now. Companies within the AV & event industries are in need of finding more efficient ways to track inventory and get a better overview of their stock levels, as demand for events is rapidly increasing, especially after the pandemic cooled down. 

For example, the Netherlands saw a record number of festival and concert attendees in 2022, 8% more than before the pandemic to be more exact, according to the Association of Event Makers (VVEM). At the same time, Europe's biggest festivals saw a spike in demand, tickets being sold out minutes after being launched in the market (according to IQ Magazine).

While more demand is great, it also implies more work for event companies. When a production company works with large stocks of equipment, they tend to dedicate more space for valuable assets and little room for bulk items, since they can be thrown around more easily. That's when mistakes can happen, and having lost bulk items is common for most companies in the industry, especially when dealing with numerous events per month.
The challenge
MHB knows the struggle of keeping track of inventory. Having operated for more than 10 years in the event industry in and around the Netherlands, quiet and relaxing days are a rare occurrence.

Thiadrik, the warehouse manager of MHB, has worked in the field for over 25 years and knows all the ins and outs of how to pull off a successful event. Making sure all projects are aligned, all equipment is in order and ready to be used for events, and of course, being a Rentman master planner is what he deals with on a daily basis.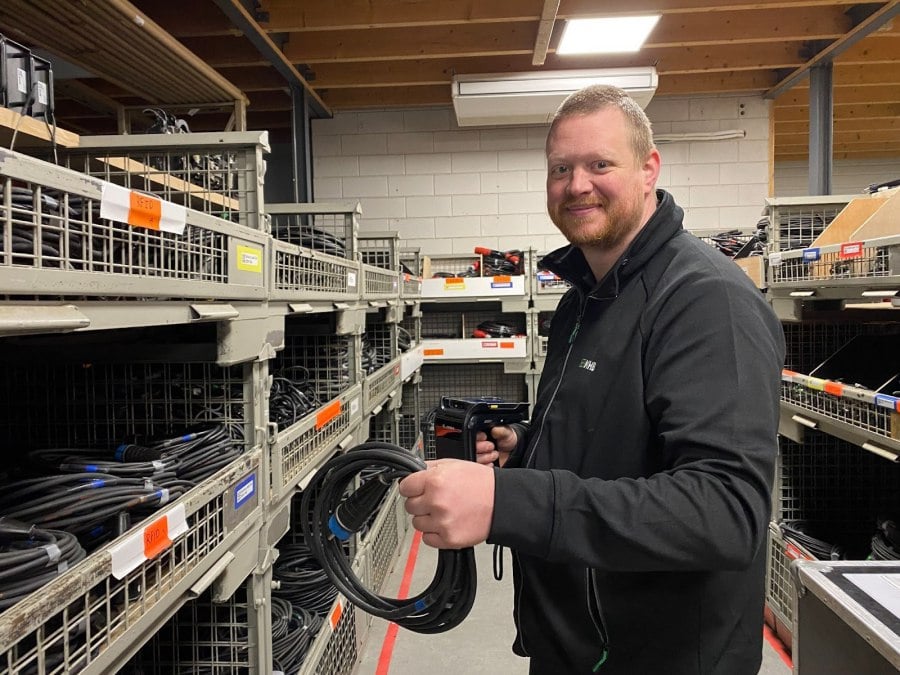 Mistakes can happen from time to time, especially during high season. Even if companies manage to keep track of their most valuable items, keeping track of loose and bulk items is often a challenge. This is also the case for MHB. After the company grew and got involved in multiple projects, keeping track of hundreds of cables became an almost impossible task.

To ensure mistakes are minimal, most companies manually count and scan each item (for example, using Rentman's equipment tracking capabilities). However, this takes time and can get tiring for large-scale events that require hundreds of items.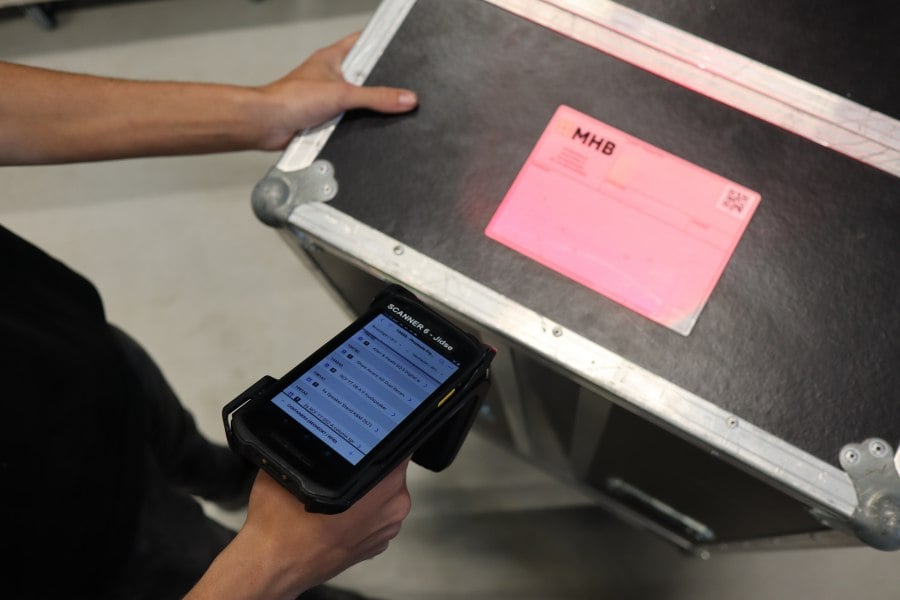 MHB was among the first Rentman users to request new tracking features, and RFID was the ideal solution for them. They saw a need to improve their tracking efficiency due to an increase in the number of productions. 
RFID in action
After months in development, we paid a visit to MHB to see how well they integrated RFID tracking in their day-to-day warehouse activities. Thiadrik, who was already enthusiastic about this feature, decided to test it on 70 cables, which already had RFID tags attached.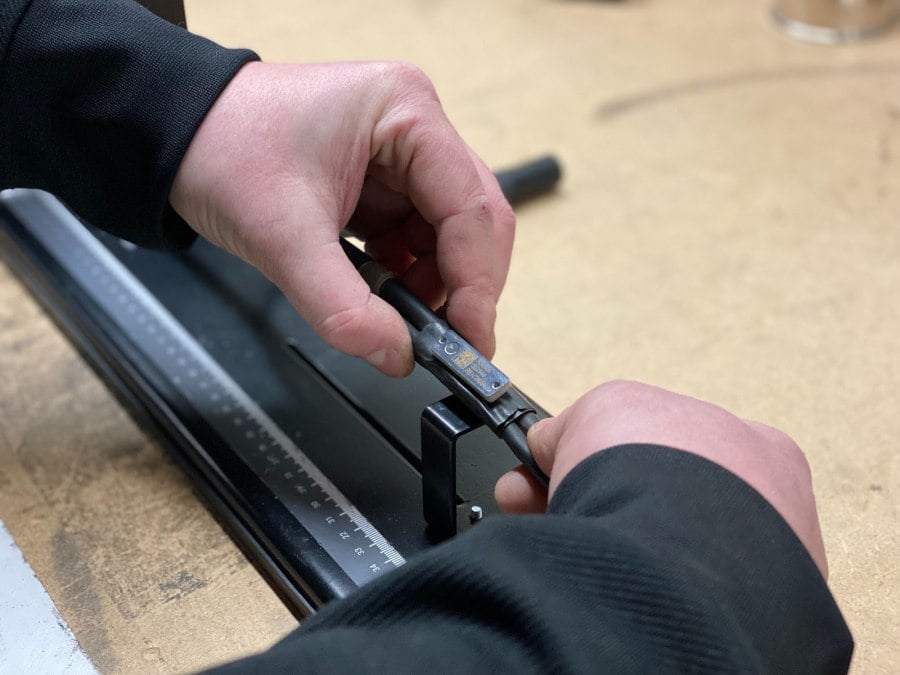 The test was simple: grab 70 cables from the shelves, scan all of them and place them inside a flight case. No better challenger than Thiadrik, who's been doing this exact job for the past 2 decades. After the timer stopped, the task was finished in 2 minutes and 23 seconds, of which 2 minutes were spent manually scanning the cables.

Now it was time to let RFID shine. All Thiadrik had to do was grab the cables and place them inside the flight case (which once again took 23 seconds) and scan everything using the RFID scanner. Compared to two minutes of manually scanning the cables, using RFID took only 10 seconds. That's a 91.6% decrease in time spent scanning!
"RFID could free one working man from manual work"
A small change in equipment tracking,
a big impact on the long run
While a 1 minute and 50 seconds improvement does not have a significant short term impact, this test was done on only one flight case. 

MHB handles 3 to 4 trailer jobs per week (each having numerous flight cases), which takes them hours to complete. Using RFID instead of manually scanning items could "save more than 1 hour per trailer job", or 3 to 4 hours per week. 

Or as Thiadrik would put it: for busy weeks, it could "free one working man from manual work", leaving more time to focus on what's more important: delivering a great production.
Identify lost items in a matter of seconds
As mentioned before, keeping track of loose or bulk items is often a challenge for production companies. We're talking about hundreds of cables, even for smaller events. Thiadrik corroborated this, saying that it's common to "lose or misplace cables on a daily basis". 

In MHB's case, after an event is over and flight cases are back, "all cables are placed on the floor to be manually counted" and placed back on the shelf. That's when they could discover that one or more cables are lost, when fewer cables came back than the total amount that was scanned and booked before the event started.
"When cables are lost, it takes us 10 minutes to identify which ones are missing"
With RFID tracking, the process is much smoother. Similar to booking all items before the show, when flight cases come back, all Thiadrik has to do is scan them using the RFID scanner. The Rentman app will automatically display the total number of cables brought back and, if any of them are lost, it will signal the exact items, so you can already start investigating where they are. "RFID could slice time spent on finding lost items by half or more", says Thiadrik, making the process to identify missing items take mere minutes.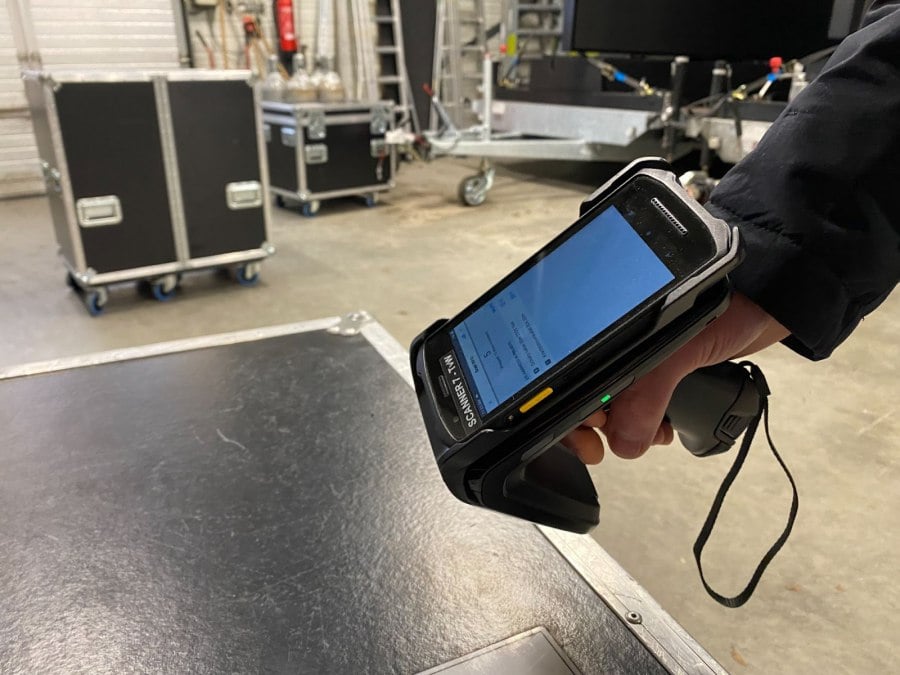 Big plans for the future of MHB
The future presents impressive opportunities for MHB. Thiadrik proudly shared their new warehouse, which is much larger than the previous one (where the interview took place). Around 5,000 sqm to be exact (equivalent 53,820 sqft). 
However, with more space available and more projects coming their way, maintaining a 360° overview of equipment levels will become more challenging as well. One thing is for certain: RFID will play an important role in the future of MHB.
The bottom line
Rentman provided a solution that helped MHB to:
Maintain a better overview of their stock levels
Reduce the time it takes to scan and book items
Identify lost items in a matter of seconds
Become more efficient in tracking equipment and save time for other tasks
Rentman is your #1 solution to track equipment more efficiently. Do you want to see more insights from the industry or want to learn more about the challenges of developing RFID? Make sure to check out our Product Updates page, as well as follow us on LinkedIn to always stay up-to-date with our latest developments and studies.
Did you know that you can try Rentman 30 days for free? Start your free trial today! No strings attached.