ROC Friese Poort is a school that provides Vocational Education and Training for youth and adults. They have 6 locations across the Netherlands. With over 15,000 students, ROC Friese Poort helps students choose their own educational route, both throughout the schooling and while gaining on-the-job experience.
What prompted you to look for a new solution?
When lending equipment out to students, ROC Friese Poort would use excel as a list of their inventory. The excel spreadsheet had the item names and locations. However, since it was such a manual process, Excel sheets were prone to errors and inaccuracies. Due to errors, items were lost and not able to be found. For example, a Node worth €4,000 was lost due to this process. 
ROC Friese Poort also had difficulties tracking damaged equipment. Students had to tell the responsible person about any damages which lead to a lot of forgotten and incomplete information.  "Even if you originally had a repair note, the notes got lost or you find another repair note on the floor with no equipment attached" says Reitse van der Meulen, Stage & Event Engineering Instructor. Some students also did not realize equipment was broken and would still take it out to use. 
How did you solve your challenges?
When ROC Friese Poort decided to look for a solution to solve their challenges, they decided to look at what is commonly used in business in their area. For them, that was Rentman. 
Upon implementing Rentman, they could directly see which items were out of the warehouse and where they are. For example, after implementation, they noticed that their Avolites Quartz was missing a dust cover. By looking at the scanning history of the item in Rentman, they could see the last student that took it out. Upon checking with the student, it turned out to be in his bedroom. Reitse van der Meulen explains, "There is no harm in that sense, it is just casual. But it is very important that our warehouse is not affected by this."
Repair tracking had also now saved a lot of time and effort with Rentman. Repairs are now quickly and completely registered by each student. All information including a description of the complaint and the name of the person who reported it is recorded in case of questions.
How has Rentman impacted your processes?
Rentman has not only solved ROC Friese Poort's initial challenges but it has opened doors to a lot more possibilities for its students. Now that tracking equipment is more smooth, there are more opportunities to grow their processes and include education at each step. 
Students now have more general knowledge of materials and can see equipment names and where they are located. Rentman also takes over the process of educating students on data processing and tracking. Warehouse operations such as scanning and inputting detailed project information are skills that Rentman is helping students to learn. This is very appreciated by companies who eventually take on ROC Friese Poort students into the workplace.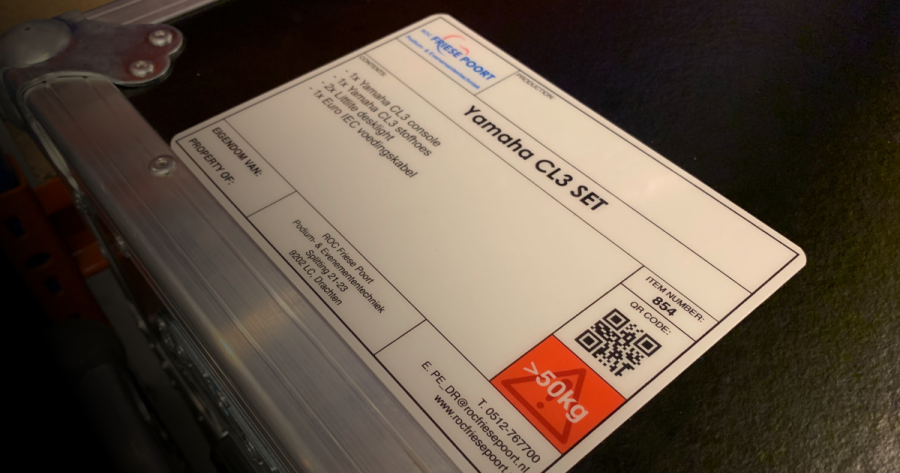 Other tools within Rentman also impact student's awareness of their responsibilities. For example, the digital signing tool came in handy during Corona times when equipment was regularly lent to students at home. Through digital signing they signed for items received which created awareness of what they were taking home and the agreement made in regards to handling it.
"Our own license is there for equipment management, warehouse processes and other functionalities that we apply internally. In the future, we plan to apply the student license with Rentman to rekindle the entrepreneurial spirit in students and to have it planned in a disciplined manner." says Reitse van der Meulen. Students at ROC Friese Poort are tested on their planning and entrepreneurial skills. Setting up lists, quotes and invoices are a big part of these exams. Rentman will be introduced to streamline the exam process and reduce the manual work from both the student and faculty perspective.