I. New changes to managing equipment in Rentman.
When it comes to managing equipment, our mission at Rentman is clear: to give you full traceability of your gear, so you can:
Always get access to reliable information when planning projects,
Know where your gear is at all times.
Many of you often package or rent items together, and our existing ways of dealing with these items with Kits, Cases, and Containers helped thousands of you track your gear. However, along the way, we discovered some challenges many of you faced with these methods:
They were difficult to understand and use,
They were not always the right fit for what you needed to do,
They prevented you from using Rentman like you intended to,
After listening to lots of your feedback, we understood that fixing these challenges was not a simple fix, but we needed to make some significant changes to our interface.
💡 If you're an existing Rentman user, you won't need to worry about these changes. You will not lose any of your hard work, your inventory will remain the same, and you can keep using Rentman like you're used to.
II. More control and endless possibilities ✨
1. Have more flexibility when setting up equipment
Rentman is now the only software that puts you in full control of how you set up and manage your equipment. Unlike other platforms, you're not limited to fixed rules and can easily decide the behavior of your equipment, combinations, and content.
2. Increase transparency
New flexible options allow you to stay on top of every piece of gear on a serial number level and be sure that you're always getting access to reliable information.
3. Save hours of your time
Do you usually have a day in the week when your crew members need to re-pack flight cases with the right equipment?
Keep your warehouse in top shape and save hours of packing time by quickly seeing which items are in which flight cases (without physically needing to open them), and reduce the need for manual work.
4. Have fewer mistakes when packing equipment
Be confident that your gear is always in the right place when leaving your warehouse and prevent mistakes like misplacing expensive equipment, or taking more (or less equipment) than required.
III. New options when adding equipment 🆕
1. Set equipment properties
You can now set equipment properties when adding new items to Rentman to be sure that your gear can always be planned or used exactly like you intend to.
Start by adding a new item in the Equipment module
Then, select whether you're adding physical equipment or a virtual combination
What's the difference between physical equipment and a virtual combination?
Physical equipment are items or combinations of items that are typically packaged together physically (e.g., in a flight case).
A virtual combination is a combination of items that are often rented out together for a fixed price.
2. Generate up to 999 serial numbers in one go
Adding items to your inventory is 10x quicker, with fewer fields to fill in, and more automated options, you can add up to 999 serial numbers for an item in just a few clicks ⚡.
3. Show crew members what should be inside every flight case
Do you need to add a flight case with multiple items inside? You can easily add this information to Rentman and communicate it to your crew.
In the properties section, select Yes (your equipment has content).
Assign serial numbers to your flight cases in the Serials numbers tab
Then, go to the Default content tab to add the items that should be in your flight case.
By assigning serial numbers, your crew members will always be aware of which items should be inside of each flight case. ✅
(Serial numbers can also be generated automatically – see 2. Generate up to 999 serial numbers in one go).

💡 Assigning serial numbers is only available with Rentman's Equipment Tracking add-on. If you're on a Legacy plan or do not have access to this product, you will need to upgrade your plan.
IV. New features coming soon 🔜
Our recent changes paved the way for lots of new upcoming improvements 🚀.

1. Be sure that the right items are in the right flight cases
It's easy to make simple mistakes when packing (or returning) equipment and there can be differences between what you thought should be in a flight case, and what will eventually be in there.
You'll soon be able to prevent those mistakes by tracking the serial numbers of each item in your flight cases. Rentman will automatically show your crew members:
what should be in your flight case,
what's actually in there,
and if they are the right items, on a serial number level. ✨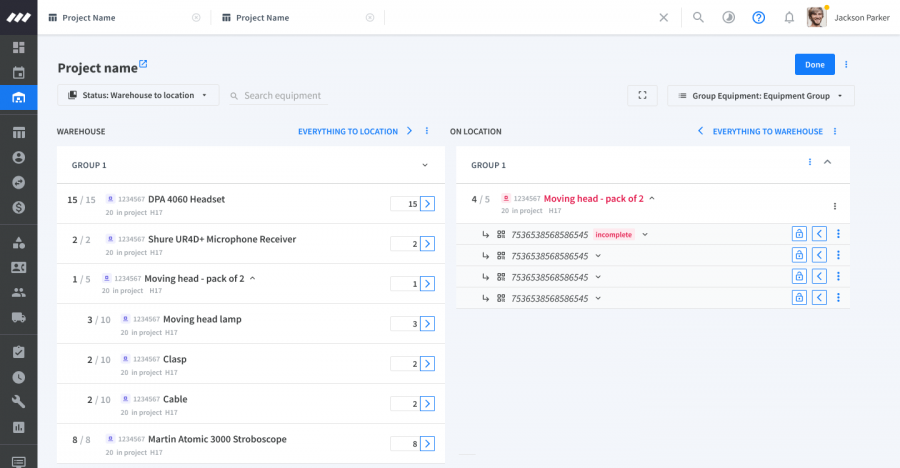 2. Print a list of the exact contents of your flight cases
Print a list of the exact contents of each flight case and stick it on your case, so your crew knows what should be in that case at all times, and you don't spend hours prepping equipment for the next job.
3. Allow items to be available outside a combination
Should an item be available to rent outside the combination it's in?
You'll soon be able to adjust the "Reserved from stock" column to do so.
Why would you need this?
Imagine having a flight case with 2 cameras and 8 lenses inside. If you don't need all 8 lenses to rent out the camera, you can specify that the lenses are "Available outside the combination."
Adding this information lets you choose the settings for each individual item in your combination. So you can have the lenses available for rent on their own, without the camera, or vice versa.
4. See which flight cases are complete/ incomplete
Does your flight case contain all the items that should be inside? Are the right items in there? Or are there accessories missing?
You'll soon be able to see which flight cases are complete or incomplete.
The status of your flight case is also shown in the serial number module, so you can easily have an overview of all flight cases that require your attention.
Share your feedback
Now that you know what's in store for you, we invite you to join the conversation!
If you have any questions or suggestions for the upcoming improvements, let us know. Because we develop our products together – with you, and for you.
All product updates