As the new year is slowly approaching, so are new ambitions. Now, if one of those ambitions is to break free from the constraints of a traditional job and become your own boss in the rental industry, you've come to the right place.
The rental business market is becoming more profitable
Let's give you an eye-opener to start off with: the US equipment rental market is projected to experience a staggering $9.46 billion rise by 2025.
So, the timing couldn't be better to dive into this dynamic field and explore the best rental business ideas. The rental business is thriving with exciting opportunities, waiting for you to seize them and unleash your entrepreneurial spirit.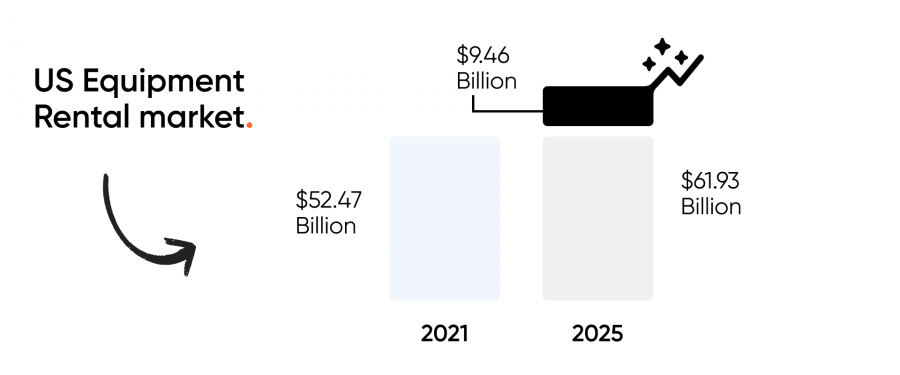 Now, no need to feel overwhelmed with all possible niches to choose from. For this article, we've curated 5 creative types of rental businesses to kick off your rental business in 2024, including the most profitable things to rent out.
1.  VR Experiences
2.  AR Experiences
3.  Mobile Bartending
4.  Kombucha Stands
5.  Online Broadcasting
For each idea, we will provide some estimates on the market size and initial investment. Making it easier for you to pick your niche and get started! 
Ready to take action and start your own rental company? That's great, this is the spirit we're looking for! Feel free to use our very own free rental business plan to get you started right away. Good luck! 
Now, let's dive in and see what business ideas we have in store for you.
#1 Create unique event experiences with Virtual Reality
Since we're discussing the future, let's kick things off with an exciting prospect: VR Experiences. With Apple revolutionizing the VR market through the groundbreaking features of their Apple Vision Pro headset, it's safe to say that these digital headsets are here to stay.
But, there's a catch: these cutting-edge devices come with a hefty price tag, making them inaccessible to the majority of the public. And that's precisely where a rental business opportunity comes in place!
Imagine offering VR Experiences at festivals, where attendees can indulge in their favorite music while immersing themselves in a captivating fantasy world. Or work events where meetings can take place in the midst of unique environments tailored to their industry (think: an Amazon Jungle setting for bio-scientists).
Got a tight budget? No problem! One of the great advantages of starting a VR rental business is that it is a good cheap business to start. With relatively low initial investment compared to other businesses (the average price of a VR headset in the US stands at $430 in 2024), you can quickly get up and running.
Let's crunch the numbers! Do note, these are estimates and might change depending on your wishes and circumstances.
Virtual Reality market size (global, 2022): $19.44 Billion
Initial investment: $1,754 - $37,876
Gross margin: 43%
Time to build: 270 days
Sources: Fortune Business Insights and Starter Story.
After the business is starting to grow, you can decide to expand it into a full-blown party supplies rental business, perhaps making this the most profitable rental business.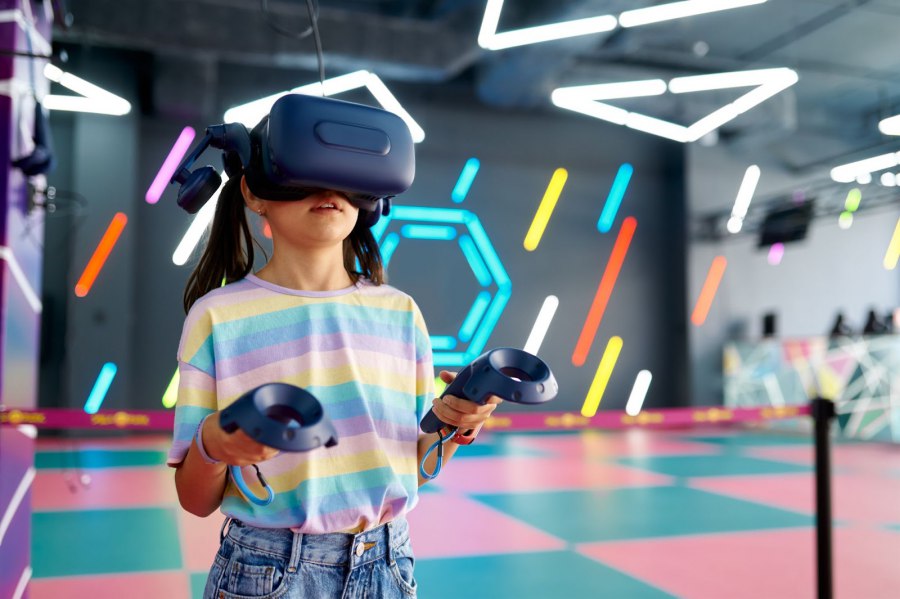 #2 Engage audiences like no other with Augmented Reality
Prefer interactions without a screen in front of people's faces? Why not opt for Augmented Reality.
AR is a technology that imposes virtual elements onto the real world, enhancing the user's perception and interaction with their surroundings. As such, it has the potential to make a physical event truly awesome by creating immersive and interactive experiences for attendees.
Here are some ways your next AR rental business can enhance events:
Engaging Presentations: transform traditional presentations into captivating experiences. Speakers can use AR overlays to bring static images or data to life, adding dynamic visuals, animations, and interactive elements.
Interactive Exhibits: AR can be used to create interactive exhibits and booths. Attendees can use AR-enabled devices to explore virtual models, visualize products, or play games related to the event theme.
Enhanced Information: AR can help attendees of business events or festivals. For example, with real-time information about the schedule, speaker or DJ details or stage locations.
To start an AR rental business, you would need to acquire a range of devices, applications and software. Make sure these devices are of different models and specifications, so that you can cater to various customer needs.
Depending on whether you want to create your own AR software or not and what type of equipment you use (glasses, big screens or QR-codes), the investment costs start around $7.000. The sheer number of possibilities makes it hard to say anything useful about margins or time to build.
Augmented Reality market size (global, 2022): $42.20 Billion
Initial investment (simple application): $7,000 - $50,000
#3 Mix it up with Mobile Bartending
Rather favor martini's and whiskey on the rocks over fermented drinks? With the US catering industry worth $16 billion in 2022 and experiencing a nearly 40% growth in the past decade, it's a promising venture to pursue!
As a bonus, this type of business allows you to showcase your creativity through the possibility of crafting unique and personalized cocktails, leaving a lasting impression on clients. For example, why not create a themed bar by focusing on tropical drinks served in coconut bowls or "hot" spicy drinks for a bachelorette?💃
By investing in the necessary equipment, such as mixing tools, a portable bar setup, high-quality cocktail ingredients, and some stylish glassware, you can offer your services to a wide range of potential clients starting with an investment of around $5.000.
Catering services market size (global, 2021): $115.05 Billion
Initial investment: $6,050 - $12,100
Gross margin (with staff): 40%
Time to build: 90 days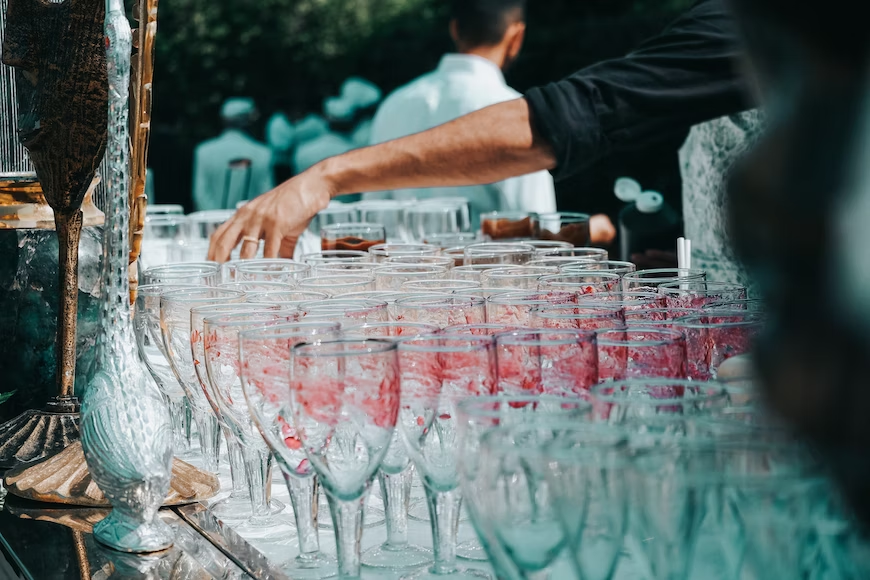 #4 Provide health-kicks with Kombucha stands
Move over lemonade, there is a new drink in town!
This tangy fermented tea drink is all the rage as the functional beverage market keeps on growing. First, it was the health-conscious folks that could not get enough of this probiotic-rich elixir. But now, kombucha has seen an increase in interest among the wider public with even your local cafe offering the beverage.
Still, if you venture into the rental business of kombucha stands, you have the opportunity to carve out a unique niche for your company that caters specifically to health-centered events. So, even small rental business ideas like these, can get you far up in the market. Consider targeting occasions such as yoga retreats, pilates classes, or even corporate environments where employees engage in mindfulness workshops.
Excited to get started? Here are three ways to amp up your stand even more:
Interactive Tasting Bar: set up a tasting bar where customers can sample different flavors of Kombucha.
Kombucha Cocktails: create a menu of Kombucha-based cocktails or mocktails. Mix it with other ingredients like fresh fruit juices, herbs, or even spirits to offer a refreshing and unique beverage experience
Eco-friendly packaging: this appeals to customers who are environmentally conscious and shows that your business cares about reducing its ecological footprint.
Depending on your partnerships with kombucha brands (we recommend you reach out to locals!), and your ambition to make this business as unique or sustainable as possible, the initial investment costs will vary. Still, this is definitely the cheapest rental business to start!
Sounds like a perfect opportunity for an ambitious twenty-something fresh out of college.
Catering services market size (global, 2021): $115.05 Billion
Initial investment: $550 - $6,800
Gross margin (with staff): 60%
Time to build: 90 days
#5 Stay up-to-date with Online Broadcasting
Ready, Set, Action!
With the increasing popularity of streaming platforms, podcasting, webinars, and live video content, a rental business in Online Broadcasting can tap into a dynamic and ever-expanding customer base!
Think of providing Live Streaming, where you allow people who cannot attend in person to participate remotely. You can include keynote speeches, panel discussions, performances, or special announcements and broadcast on YouTube or Instagram live.
Or opt for audio, such as Podcasting! This steady-growing marketing channel gives audiences remote access to interviews, discussions, or presentations, and thus a convenient way for people to engage with events at their own pace (think: in the car or during cooking).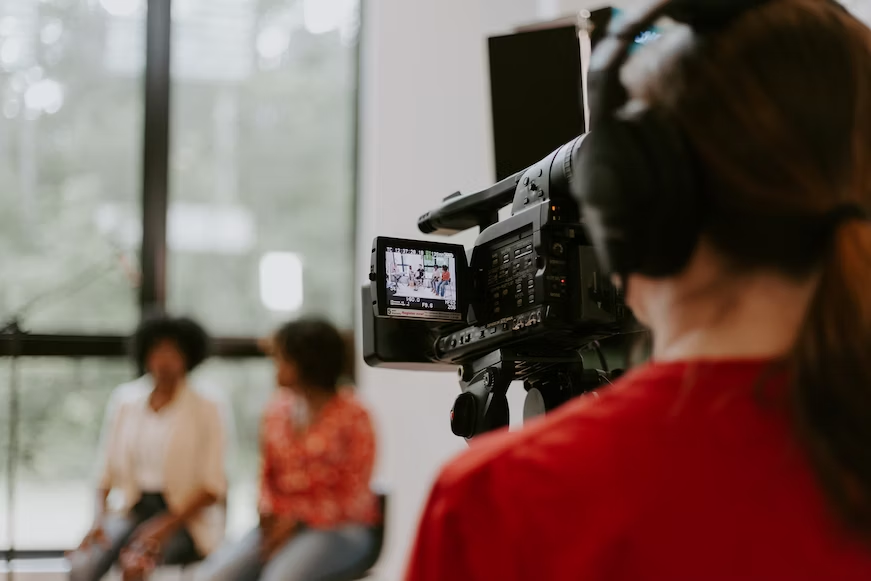 Be aware though that broadcasting equipment - which requires a high level of quality and precision - can be relatively expensive compared to previous business ideas. On the bright side, the margins tend to be higher as well.
Video streaming market size (global, 2022): $89.03 Billion
Initial investment: $8,550 - $18,100
Gross margin (with staff): 80%
Time to build: 90 days
Sources: Grand View Research and Step by Step Business.
Found your next rental business idea? Awesome! Check out our guide to start a party rental business in 10 steps.
About Rentman
Rentman provides software solutions for the event and broadcasting industry. Today, over 12,000 professionals use Rentman every day to manage their projects, equipment and crew with ease. We help you take control over the nitty gritty of your operation, so you can focus on what you love most: Building memorable productions!