Do you have customers who prefer to pay in installments? Or do you have customers that sometimes need to spread out their payments as they navigate a short-term hurdle with their cash flow?
Introducing Partial payments, a new way for you to accept and show payments and outstanding balances on your invoices. 💳⚡
What is a partial payment?
A partial payment is a payment your customer can make for a portion of an invoice's total amount. For example, if a customer owes you $10,000, you can make an agreement with them to make a down payment of $3,000 to lower their outstanding balance.
Offering partial payments helps you build stronger relationships with your customers by giving them a bit of added payment relief when they need it.
Adding partial payments in Rentman
Add payments in the financial tab of a project, when generating an invoice, or in the Invoices module. 
Go to the invoice 
Then enter the paid amounts
If you want to show the paid installments and outstanding balance on your invoice, simply regenerate the invoice.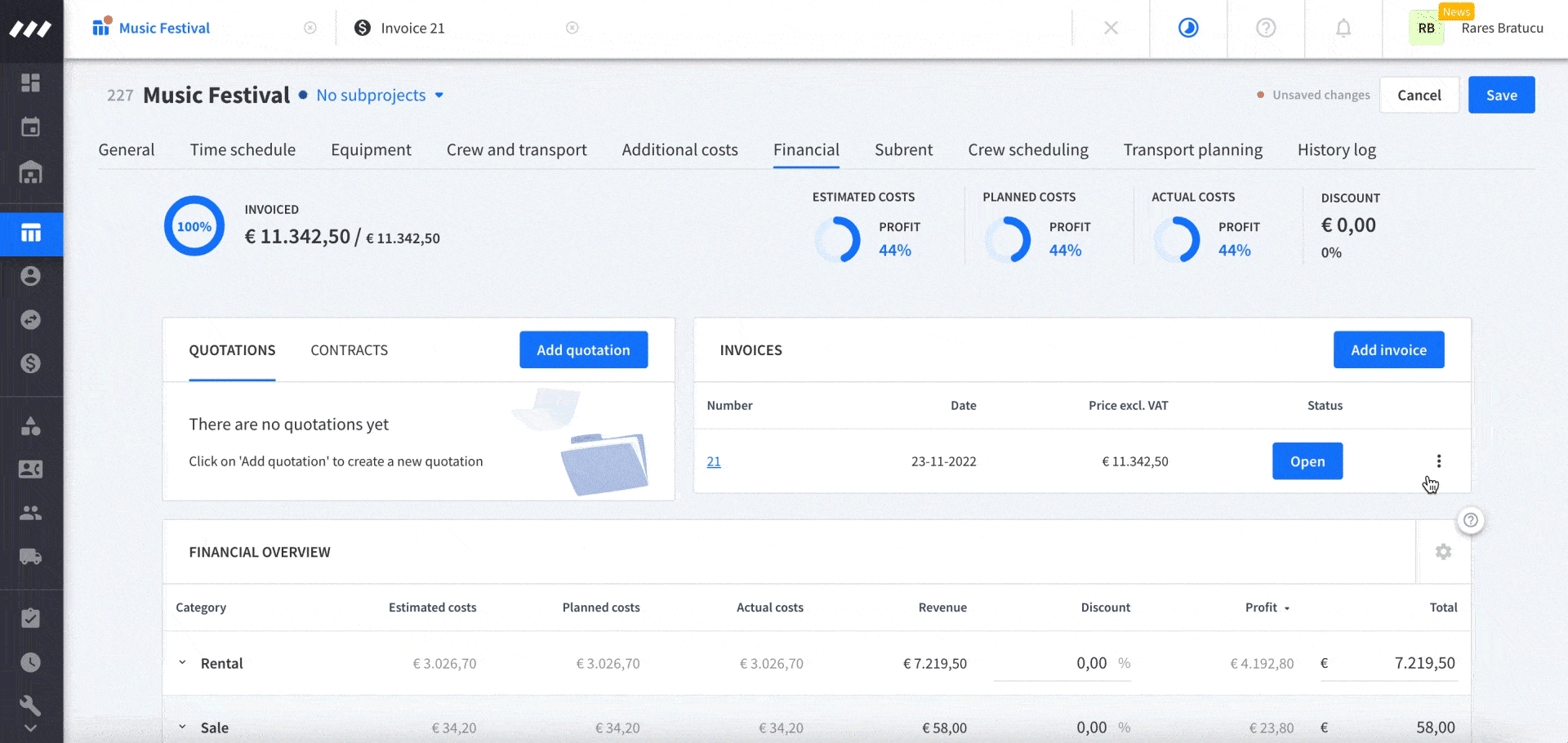 What will your customers see on their invoices?
1. Show installments on the same invoice
You now have the option to show customers paid installments, the total amount paid, and the outstanding balance on the same invoice. 

2. Work with separate invoices
If you prefer to not show paid installments on the same invoice, you can also opt to:
show the total paid amount on one line (instead of separate lines)
work and show installments on separate invoices.

Read more about customizing the layout of your invoices in this support article.
Keeping track of outstanding balances
Keep track of unpaid invoices, outstanding balances, and due dates by customizing your view and filtering your invoices in the Invoices module to give you a bit of clear headspace.

Read more about adding and editing columns in this support article.
How to get access to this feature
Partial payments are only available with Rentman's Quoting & Invoicing add-on. If you do not have this add-on, but would like to have access to this feature, you will need to upgrade your account. 
All product updates