Account managers spend a lot of their time on the road and often find themselves in situations where they don't have access to a computer. With busy schedules, and constantly being on the move, we understand how important it is for them to have the option to quickly create projects from a mobile device or tablet.
With the latest update to the Rentman mobile app, it is now possible for you to quickly create projects when you're on the go. This is especially useful if you often need to:
block dates for upcoming projects,
set up and add information to a new project when on the road,
quickly change the status of a project,
or handle last-minute warehouse pick-ups.
Creating a project in the Rentman mobile app
Head on over to the Projects module > Add project
Select a project template and choose a start date
Then, enter the details of your project: name, status, account manager and stock location and click on ✔
Now that your project has been created, you will see that your time schedule and all other information from your template were copied to your new project.
On the mobile app, you can:
add notes, files, and tasks to your project,
change the client and location,
or change the status of the project.
To add more details or change information in your project, you will need to continue editing the project from a computer.
Warehouse improvements
We've also made some improvements to the warehouse booking screen of the mobile app. It's now easier to see the amount of equipment that is packed, prepped, on location or returned by selecting the corresponding status from the menu. You can also track your booking progress with a visual bar at the top of the booking screen.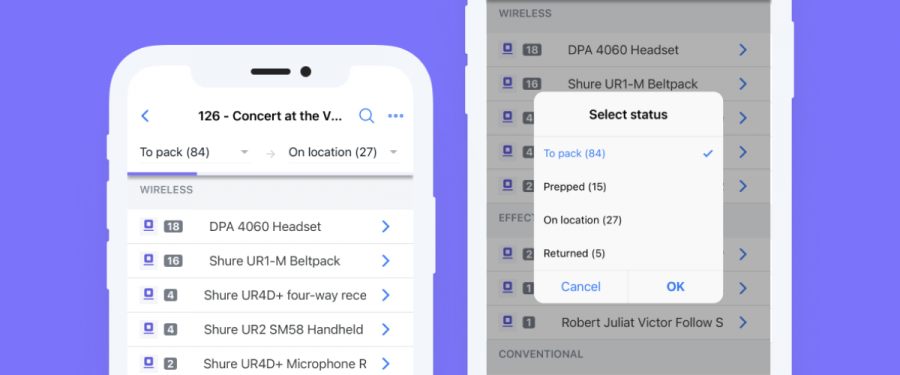 Creating projects in the Rentman mobile app is available with all Rentman licenses.
All product updates