On average, potential customers go through 67% of their decision making process before ever speaking to someone at a company. What does this mean for AV and event suppliers? Well, it means your online presence is crucial to growing your business and attracting new customers. Typical consumers will check your website, Facebook, Instagram, LinkedIn and online reviews to form their own opinions before reaching out. Not only should you have an online presence but you need to be findable in multiple ways as well.
The industry is certainly competitive and potential customers will most certainly be checking your online presence against your competitors. Not only is it crucial for the success of your business but your online presence is also a way to stand out against the competition. Through your online presence, you can show that your company is more trusted, professional and knowledgeable than the competition.
With events being largely restricted due to COVID-19, it is a perfect opportunity to grow your online presence to make the decision making process that much easier for your prospective customers. Here are some tips to tackle your online presence.
The Power of a Professional Website
"56% of people stated that they won't trust a business without a website." - Weebly
Having a website is an absolute must to stay competitive in this industry. Afterall, your website works to sell your services 24/7. Your website should clearly explain the services you provide to potential customers. Remember, not all of your customers will be from the AV or event industry. For example, instead of mentioning you provide a "Shure SLX 24B58 K51" mention instead you provide a "wireless microphone". Most people would have no idea what a Shure SLX could do for them but would better understand having a microphone with no wires. Try to avoid industry specific names or terms as much as possible so that it is clear to potential customers the type of service or equipment you will provide.
Pictures are worth a 1000 words! Use your website to showcase the amazing work you have done so far. You don't just create an event, you create experiences. Show high-quality pictures of the venue, your set-up, and the live event. Entice people into the whole experience, not just the technical aspect. For example, don't just have a picture of a flight case on your website. Show how your crew carefully pack or unpack equipment, how they create the atmosphere and sounds for events, or the overall look and feel of your production.
If you want to make renting even easier for prospective customers, include a webshop on your website. This will allow your customers to see the range of equipment or packages you offer. If you connect your webshop to an inventory management system like Rentman, you can even allow your customers to place orders based on the real-time availability of your equipment. With a webshop, the entire rental process is significantly shortened and made easier for your customers.
Showcase your Happy Customers
We know that the decision-making process is largely self-driven. Potential customers want to do their own research and make their own opinions before deciding to reach out. Why not make their decision as easy as possible for them?
Just showing your company information on your website is not enough. You should also include customer testimonials that provide first-hand experiences of your services. First-hand accounts help reduce the perceived risk of trying a new product and will increase trust in your business for potential customers.
Make sure to choose carefully which testimonials to use on your website and display them in an easy-to-access place. Prospective customers should not have to click through 5 pages just to find your customer testimonials. It could be possible that you already have reviews in places like Google or Facebook. Feel free to include these reviews or testimonials from your social sites on your website as well to make things easier.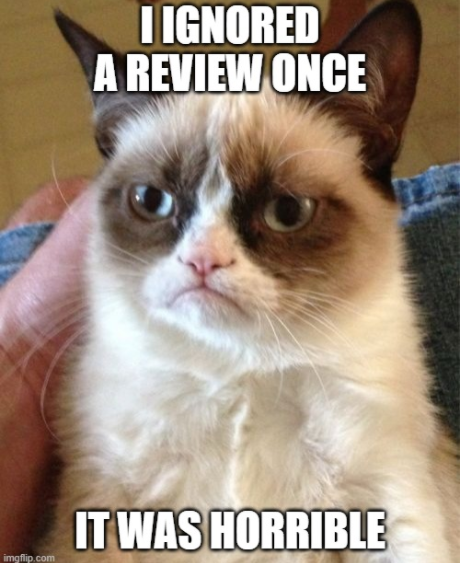 While opinions about your company mostly form before any interactions occur, it's still important to make sure early interactions with your customers are as seamless as possible. After all, opinions can be changed at any point in the process. Provide professional and consistent communication to make sure your projects get confirmed and your customers stay loyal.
First of all, use a professional or business email address. No one is going to want to do business with [email protected] 👎. Typically, [email protected] (or variations of this) is a standard format and will increase credibility when speaking with potential customers.
Also, keep your branding is professional and consistent. Use an email signature with your name, your role within the company, and contact details. You might even want to include a picture of yourself so customers can visualize who they speak to. This is mostly important for your employees that regularly speak with customers, I'm sure your warehouse personnel would be less than thrilled to create new email signatures 😉. With some powerful online tools, like Hubspot's signature generator, it's possible for anyone to create a professional signature. We use it ourselves!
If you are sending out documents like quotes and contracts, make sure they match the professionalism of your emails. You should have an overall consistent style. Your logos should be easily visible for brand recognition and the terminology should be clear and concise.
Be Easily Discoverable
Having a professional website and communication is important but being discoverable is vital. After doing all of that work on your website, you want to make sure your potential customers can find you or are driven back to your website.
How do you achieve this? The magic answer is… social media 🎉! Facebook, LinkedIn, Twitter, Instagram, Youtube, TikTok - there are so many to choose from! Do you need to be on all platforms? Absolutely not! Each social media platform has its own pros and cons. As a business, you want to decide what you want to achieve and then grow your online presence in a way that helps you achieve this.
For example, 22% of the world's population is on Facebook making it the market leader. Because of this, It's definitely important to have a presence on Facebook as well since most of your audience will likely be on it as well. However, LinkedIn tends to be more popular in different countries instead of worldwide. Instagram is also a great tool to showcase your work on events (remember, pictures are worth 1000 words!) so if you want to produce more creative content, Instagram might be the tool for you.
Whatever platforms you decide to have a presence on, the most important thing is that people can find you. Each platform will serve as a way to drive prospective customers back to your website. Social media also serves as a way for your customers to leave their reviews and for you to engage directly with your customer base. By being discoverable in multiple ways, you increase the likelihood of gaining new customers and retaining existing customers through engagement.
Get Online Ready for 2021
2020 has been hard for the industry around the world. We know events will come back eventually and so now is the best time to prepare. Take a look at each aspect of your marketing and branding and make a plan to grow in the areas you want to improve. If you start now, you can get a leg up over your competitors and start 2021 even stronger!