After a successful testing period, we are excited to announce the release of Rentman Lite and Classic. With the Lite and Classic packages, we want to provide smaller AV rental companies with powerful and affordable planning tools to run a better business.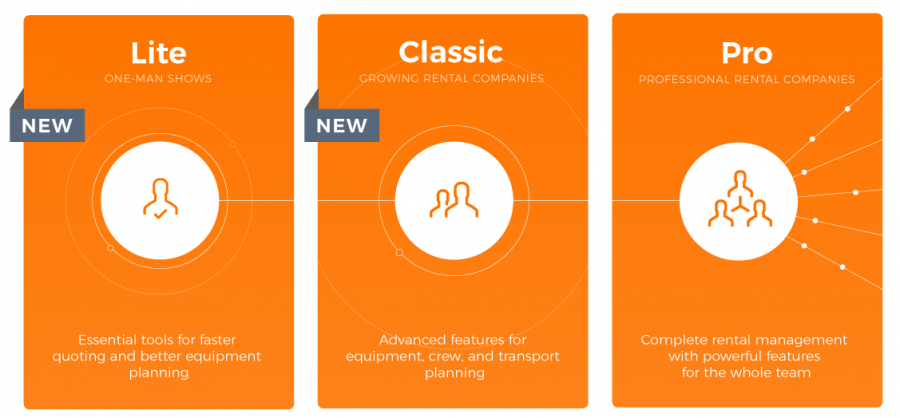 Powerful tools for one-man shows and small rental companies
Over the last years, smaller rental businesses have become more prominent in the audiovisual industry, but they frequently lack a good rental management solution. The main reason? Existing rental solutions are often too extensive for the needs of smaller businesses and they also require a high initial investment in time and money.
We want to further open our doors to smaller rental companies by offering an affordable and easy-to-use solution with Rentman Lite and Classic. Both packages contain the fundamental tools, to help you better plan and manage your inventory and rental jobs.  
Two solutions
As in Rentman Pro, the new licenses include all the essential features to swiftly transform a request into a neat-looking quote and invoice. Email your quote directly to your client from within the software and let them confirm it online. You can even let clients pay their invoice online with a credit card, PayPal, or other payment solutions.
Rentman Lite is designed for one-man shows and helps save valuable time by automating your administrative tasks and taking the pain out of planning. Anyone from a freelancer to small rental businesses will now be able to keep all equipment data and planning in one place, accessible from any location. The Classic deal is more extended in features and allows you to connect with your team. It comes with the feature to schedule crew and transport 

Flexible licenses
Your business is growing and you are thinking about switching to a more extended Rentman package? We have made our license structure flexible so you can easily up or downgrade your subscription on a monthly basis.
Rentman Lite starts from €29.00 ($35.00) per month and Classic at €59.00 ($65.00). Make sure to check out our pricing page if you want to learn more about the features that are included in each license.
Try it yourself
Anyone can register for a free 30-day trial of Rentman Lite or Classic/Pro. We would love to see you become part of the Rentman family, consisting of more than 10.000 users in 50 countries worldwide.
Want to know more about the differences between each license? Check out this support article.